EGO - ST 1300 E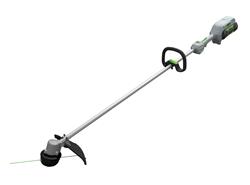 EGO ST1300E NO BATTERY & CHARGER
EGO Cordless Line Trimmer 56V Lithium-ion ST1300E The EGO Power+ ST1500E string trimmer sets a new standard in the battery-powered grass trimmer category, performing as well as, or better than, premium petrol-powered models. In runs on the industry's most powerful battery, the first ever 56 volt lithium-ion battery, with 40% more power than the leading 40 volt battery. Enjoy the benefits of cordless freedom combined with the performance of petrol without the noise, fuss and fumes. The features of the EGO Power+ String Trimmer include a 38cm (15") cutting swath for efficient trimming around your garden; dual-feed, spiral twist line with a 2.4mm diameter, for professional cutting power and a bump head trimming system with easy head replacement. Just hook, wrap and go! This model is also equipped with a high-efficiency brushless motor which, with its lightweight, compact design, delivers longer run time, low vibrations and extended motor life. The oversized straight aluminium shaft features an adjustable loop handle for increased operator feel and manoeuvrability.
Specification:
Power : Lithium-Ion
Cutting path width (mm) : 330
Line diameter (mm) : 2.0
Weight (kg) : 2.8
Running time per charge (mins) : 30-110
Handle : Loop
Shaft type : Straight
Blade : No
Max Domestic Warranty (mth) : 60
EGO - ST 1510 E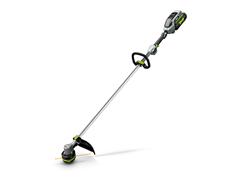 ST1510E - POWERLOAD TRIMMER
(without battery and charger)
Our first line trimmer with Powerload technology for automatic line replacement. Features variable speed and large 38cm cutting swaith.
Specification:
Line Trimmer head : 38cm
Total Length : 173cm
Run Time* 2.5Ah : Up to 30 minutes
Run Time* 5.0Ah : Up to 60 minutes
Run Time* 7.5Ah : Up to 90 minutes
(*May vary and depend on the battery used, charge level,condition of the grass and user's operation technique)
Speed Control : Constant speed/Variable speed
NO Load Speeds : 4,000-6,000 rpm
Soft start : Yes
Line diameter supplied : 2.4mm
Line Feed : Rapid reload bump feed head
Duel Line : Yes
Rotating direction : clockwise
Auxiliary Handle : Loop and quick adjustment
Harness : single shoulder
Vibration (M/S²) : 1.1/1.5
Motor type : Brushless
Noise Rating LpA/LwA : 79.3dB(A) 93dB(A)
£ 199.00 ( inc vat )
More Information :
https://www.egopowerplusuk.com/
===
EGO - BC 3800 E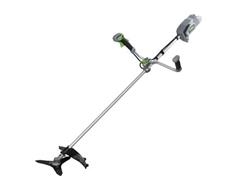 BC3800E 56V LITHIUM-ION CORDLESS REAR MOTOR BRUSH CUTTER 38CM

(without battery and charger)
Rear motor brush cutter that comes with both a line trimmer head and a metal blade for tough weeds. A double harness is included for added comfort and longer usage periodsing.
Specification:
Weight (kg) : 4.54kg
Max Load : 56V DC
Handle Type : Bike Handle w/ Quick Adjust
Speed Control : Constant
No Load Speed : 4,000-5,800 RPM
Cutting Head Type : Rapid Reload Bump Head
Line Type : AL0951 0.095" (2.4mm) nylon line
Cutting Width : 15" (38cm)
Soft Start : Yes
£ 279.00 ( inc vat )
More Information :
https://www.egopowerplusuk.com/products/brushcutters/56v-lithium-ion-cordless-rear-motor-brush-cutter-38cm.html
===
EGO - BCX 3800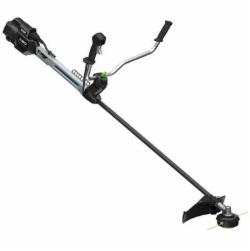 BCX3800 COMMERCIAL LINE TRIMMER / BRUSHCUTTER

(without battery and charger)
===
Click

HERE

to return TO THE TOP of the page.