EFCO - MT 5200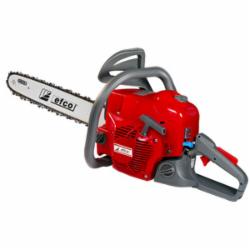 Chain saws for intensive use
Machines designed to satisfy a wide range of users, from demanding home gardeners requiring a tool for frequent use, to farmers and professional contractors. Its compactness, versatility and good power-to-weight ratio ensure excellent cutting performance for any use, from limbing and pruning to cutting medium-sized trunks.

Piston with 2 elastic rings, forged and machined steel shaft and connecting rod, needle bearings, nickel-plated cylinder: constant level of efficiency assured over time, even in tough operating conditions.

Digital coil with electronic control: variable ignition advance allows for a reduction of the rate at which fuel is burned, making the machine easier to start.

Automatic and adjustable aluminium oiler: facilitates the task of the operator by allowing variation of the oil feed to suit the workload on the machine and the bar/chain combination; zero oil flow with the engine at idling speed ensures lower consumption and reduced impact on the environment.

On/off switch, choke and half-throttle control incorporated into a single multifunction lever: guarantees practical and simple operation.

Lateral chain tensioner: simplifies tensioning adjustments while avoiding any risk of contact with the chain.

The decompressor, "Primer" and semi-automatic choke offer trouble-free starting under all conditions, whilst the one-piece handle/grip section has been separated from the engine and ensures excellent manoeuvrability.

The filter cover can be opened without tools, whilst the nylon filter is self-cleaning; the side chain tensioner makes maintenance as simple as possible.
Specification:
Power/Displacement : 3.4 HP - 2.5 kW/51.7 cm³
Bar length : 41-46 cm / 16''-18'' / (sprocket)
Chain (pitch x gauge) : .325''x.058''
Oil Pump : automatic / adjustable / zero flow with engine idling
Oil tank capacity : 0.27 L/0.5 L
Sound pressure/power level : 104.4/112.9 dB(A)
Lh/rh vibration level : 5.2 / 5.5 m/s²
Weight : 5.0 Kg
£ POA ( inc vat )
More Information :
http://www.efco-uk.co.uk/Prodotto.jsp?idMarchio=2&idProdotto=943&idFamigliaRif=227&idFamiglia=373&idSottoFamiglia=377
===




Click

HERE

to return TO THE TOP of the page.