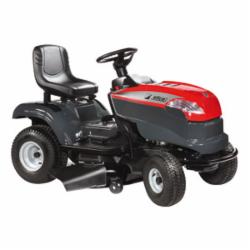 98cm Side Discharge Lawn Tractor
Compact side-discharge models with easy-to-reach dashboard controls and hydrostatic transmission for smooth travel, guaranteeing enhanced operator comfort.

•Extremely rugged thanks to the new reinforced chassis and large size wheels (15" x 5.00 front, 18" x 8.50 rear).

•Hydrostatic transmission on all models: progressive speed control by means of a double pedal that provides smooth, constant, and linear movement of the tractor in all conditions.

•Cutting height can be set to 7 different positions using an ergonomic easy-engagement lever.

•The blades are set in motion by the operator by pressing the electromagnetic clutch button on the dashboard. This system ensures precise and smooth cutting deck activation without kickback.

•Driven by Emak and B&S engines offering excellent performance and long running times before refuelling thanks to the generous 6 litre fuel tank.

•Water hose connection system by means of quick couplers on the cutting deck: fast and efficient cleaning of the entire cutting deck.

•Optional towing hitch.
Specification:
Displacement : 432 cm³
Engine make/model : Emak K 1450 AVD
Cutting width : 98 cm
Propulsion : hydrostatic
Speed (km/h) : from 0 to 8.8 km/h in forward drive - from 0 to 3.8 km/h in reverse
Turning radius : 70 cm
Overall dimensions : 172x119x106 cm
Weight : 160 Kg
£ 2140.00 ( inc vat )
More Information :
http://www.efco-uk.co.uk/Prodotto.jsp?idMarchio=2&idProdotto=3362&idFamigliaRif=227&idFamiglia=409&idSottoFamiglia=1407
===




Click

HERE

to return TO THE TOP of the page.