COBRA - HT 62 C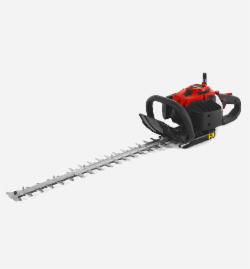 22cc Handheld Petrol Hedgetrimmer
The Cobra HT62C petrol Hedgetrimmer featuring a 62cm / 24" blade is designed for use on all types of hedges. Powered by Cobra's own 22cc 2-stroke engine and incorporating a Twist Grip Handle to help tackle the most awkward jobs.
Specification:
Cobra 2-Stroke Engine / 22cc Displacement
Walbro Carburettor
62cm Double Sided Blade
28mm Tooth Spacing
Magnesium Alloy Casting
Twist Grip Handle
Domestic Warranty: 2 Years (Engine May Vary)
Weight: 4.6kg
£ 179.99 ( inc vat )
More Information :
http://www.cobragarden.co.uk/HT62C_Hedgecutter.html
===
GARDENCARE PLUS - HTO 601 R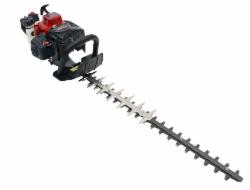 60cm 23cc Petrol Hedge Trimmer
This GCHTO601R hedge cutter from Gardencare comes equipped with a 60cm double sided blade and an adjustable rear handle for ease of operation. It also comes with an improved anti-vibration throttle control and an impressive Kawasaki TJ23V 23cc engine, as well as a robust new gear box.

Powered by Kawasaki

Fitted with a commercial Kawasaki 27cc 2-stroke engine, the GCHT0601R is designed for tackling even the toughest of jobs. It comes fitted with the Kawasaki designed KAR starting system, meaning your machine starts easily every time. Being Japanese this engine offers unrivalled design and build quality.

Gardencare Double Sided Blade

The Gardencare HT0601R offers a 60cm fully rotating, double-sided, dual reciprocating blade, giving the perfect cut every time.

Comfort Controls

Equipped with easy-to-use, well positioned and comfortable handle controls this hedge cutter is both versatile and accurate no matter what the angle of cut. Its 180º adjustable rotating handle ensures this.

Anti-vibration and low noise

Four anti-vibration points effectively isolate the handle from the engine. This also reduces transmission vibration which results in less user fatigue. Couple these factors and you have a quiet running machine that lets the user cut for longer.
Specification:
BRAND : Gardencare
POWER SOURCE : Petrol
POWER DETAILS : 22.5cc Kawasaki TJ23V
STARTING METHOD : Pull Start
HANDLE TYPE : Swivel
LONG REACH : No
CUT SIZE : 60 cm
BLADE TYPE : Double Sided
FUEL TYPE : 2 Stroke
£ 334.99 ( inc vat )
More Information :
https://www.gardencaredirect.com/garden-machinery/hedge-trimmers/gardencare-plus-hto601r-23cc-60cm-petrol-hedge-trimmer-162
===




Click

HERE

to return TO THE TOP of the page.