EFCO - SA 3000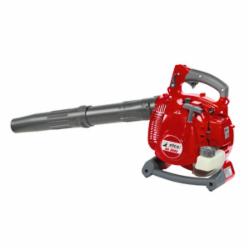 EFCO SA3000 Hand held Blower
Practical handheld blowers, ideal for tidying away leaves, green waste and other debris in the garden. Characterised by low vibration for consistently comfortable and extremely quiet operation, making them ideal for use in built-up residential areas.

•Model SA 3000 offers the lowest vibration levels on the market, only 3.5 m/s², as well as extremely low noise emissions of just 89 dB(A), low weight, ideal for use in urban settings in the vicinity of residential properties.

•SA 3000: "Vibcut" professional anti-vibration system, utilizing mounts with 4 steel springs located between the engine and the outer casing, ensuring that vibrations transmitted to the operator are significantly reduced.

•Rubber covered handle ensures a firm and comfortable grip on the machine, while at the same time isolating the hands of the operator from vibrations (model SA 3000).

•Vacuumed material is chopped up by a rotor with 4 steel blades (standard feature) to reduce the volume when inside the bag, so that more work can be done with fewer emptying stops.

•Paper air filter that provides the maximum engine protection when the tool is used in places with high dust levels. Reusable and easy to clean. Wadding filter on model SA 2700 BP.

•The blower can be converted to operate as a vacuum cleaner by fitting a kit comprising hose and collection bag (optional).
Specification:
Power/Displacement : 1.3 HP - 1.0 kW/30.5 cm³
Max. air volume : 12.0 m³/min - 720 m³/h
Max air speed : 70 m/sec
Collection bag capacity : 36 L
Sound pressure/power level : 88.5/99 dB(A)
Lh/rh vibration level : 3.5 m/s²
Weight : 4.5 Kg
£ 315.00 ( inc vat )
More Information :
http://www.cobragarden.co.uk/HT62C_Hedgecutter.html
===




Click

HERE

to return TO THE TOP of the page.